Profile

Beyond the Long River
Thranduil, son of Oropher
Free Account
Created on 2012-06-13 21:35:38 (#1646370), last updated 2014-12-01 (147 weeks ago)
514 comments received, 8,231 comments posted
12 Journal Entries, 5 Tags, 4 Memories, 178 Icons

About
| | |
| --- | --- |
| Name: | Thranduil |
| | |
| Location: | Haunted-ass forest kingdom |
| | |

Mini Bio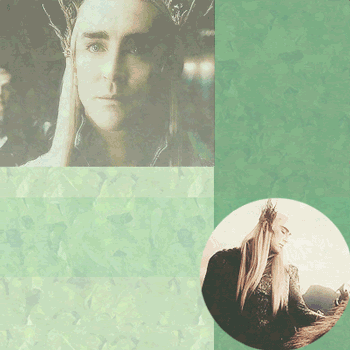 image by

kyronae



In the great hall with pillars hewn out of the living stone sat the Elvenking on a chair of carven wood. On his head was a crown of berries and red leaves, for the autumn was come again. In the spring he wore a crown of woodland flowers. In his hand he held a carven staff of oak.

This is a roleplay journal.

Name: Thranduil, son of Oropher, King of the Woodland Realm
Age: Tentatively 6,562 years (I headcanon him to be of Dior's generation, born c. F.A. 410)
Canon point: The end of the book The Hobbit unless otherwise stated.
Hair: Gold ("...at the head of a long line of feasters sat a woodland king with a crown of leaves upon his golden hair...") and long--about hip-length.
Eyes: Blue-grey
Height: Tall. Probably 6'3"-ish. First Age elves, you know.
Weight: Lean, with compact muscles.
Notable features: He's a freaking elf. He does not look human. Tolkien's elves are strikingly lovely but not necessarily androgynous. When people from Middle-earth see one, they know what they're looking at even if they've never seen one before. There's just no mistaking them for human.

And I'm going along with the pointy ears thing. I know it's controversial, but it's just easier.


People
[View Entries]

Communities
[View entries]

Member Of (7):

Subscriptions (6):

Administrator Of (2):

Feeds
[View Entries]

Subscriptions (0)

Linking
To link to this user, copy this code:
On Dreamwidth:
Elsewhere: